Modular Video Conversion System
Real time conversion of resolution, aspect ratio, and frame rate for high definition and standard definition video.
The XBox offers unparalleled flexibility and performance in a video converter. The XBox can be configured to convert between multiple video formats including HDTV, standard definition digital video and computer RGB video. The XBox's advanced modular design permits users to configure a system to their specific requirements and later add new functionality with the addition of new video input, output and processing modules.
The XBox has an extensive list of standard features including complete aspect ratio controls and advanced image enhancement filters. The aspect ratio controls include anamorphic stretch, separate horizontal and vertical controls for black bars as well as zoom, and smooth pan/scan controls. You can create your own aspect ratio presets or use the factory presets.
The XBox's unmatched image quality is achieved via proprietary conversion technology that evaluates the video source characteristics and selects the appropriate filter and conversion algorithms. Separate video modules perform each major signal processing function. This permits simple upgrades to incorporate any future video standards.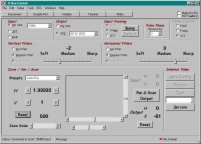 Click to view a screen capture of the XBox control software.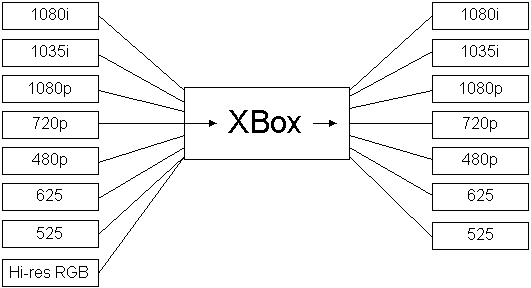 INPUT
HDTV upconversion & downconversion

HD to HD format conversion

525 to/from 625 format conversion

Resolution and frame rate conversion

Aspect ratio conversion

Computer RGB to video conversion

Film mode with 3:2 and 24fps capability

Intuitive graphical control interface

Modular design for simple upgrades

Advanced proprietary digital filters